Online Form: Correction
You may have received a letter from college containing a short URL (website address) to fill in an onine form to submit your details to us.
We've become aware that the link was incorrect, and any information submitted via the old form has now been deleted.
Please use the following link instead: https://a.whptrust.org/bc2020

Please don't hesitate to contact the office on This email address is being protected from spambots. You need JavaScript enabled to view it. if you have any queries, and please accept our sincere apologies for any inconvenience this may have caused.
Moving from Year 6 into Year 7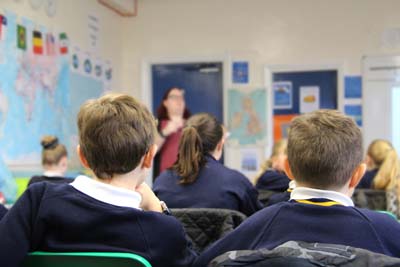 Welcome to Bramcote College. We are proud to have a well-established and successful transition programme which ensures that all our students can begin Year 7 feeling calm, settled and knowing the school, their tutors and peers well.
Primary School Visits
In the summer term, all Year 6 students who have a place with us are visited at their primary school by a member of our Key Stage 3 team. This allows them to ask any questions they have, and ensures that they have a friendly face to meet them on our induction days in July. We also use these visits to speak to Year 6 teachers so that we have all the information we need to ensure a smooth transition.
Students with SEN
We work closely with all primary schools and with the Family SenCo to ensure that the correct funding and support is in place for students who have Special Educational Needs. We also run a programme of extra visits for these students prior to the main transition days. If you would like to speak to us directly about the needs of your son or daughter, please do not hesitate to contact our SenCo, Mary Kirby, at This email address is being protected from spambots. You need JavaScript enabled to view it.
Transition Days
We run transition days for new Year 7 students in July each year. All students are invited for two days to meet their form tutors and each other, to sample some Year 7 lessons and take part in transition activities. Students with SEN or anxiety, and those from non-feeder schools are invited for an additional day prior to this in order to offer them further support.
Dates for 2020:
Main transition days – Wednesday 8th and Thursday 9th July
Additional transition day – Tuesday 7th July
Information for parents
Information packs are sent to all parents once allocated places have been accepted. We also hold a parents' information evening with the chance to meet senior staff, tutors and the Key Stage 3 team, as well as buy uniform. This will be held on Wednesday 8th July 2020 from 7pm until 8:30pm, with uniform sales open from 3:00pm.
If you require any more information regarding transition, or places for Year 7 this September, please contact Jenny Read at This email address is being protected from spambots. You need JavaScript enabled to view it. or telephone the school.