Moving from Year 6 into Year 7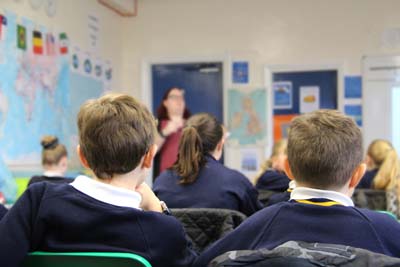 Welcome to Bramcote College. We are proud to have a well-established and successful transition programme which ensures that all our students can begin Year 7 feeling calm, settled and knowing the school, their tutors and peers well.
Primary School Visits
In the summer term, all Year 6 students who have a place with us are visited at their primary school by a member of our Key Stage 3 team. This allows them to ask any questions they have, and ensures that they have a friendly face to meet them on our induction days in July. We also use these visits to speak to Year 6 teachers so that we have all the information we need to ensure a smooth transition. This year, these visits will take place 'virtually.'
Students with SEN
We work closely with all primary schools and with the Family SenCo to ensure that the correct funding and support is in place for students who have Special Educational Needs. If you would like to speak to us directly about the needs of your son or daughter, please do not hesitate to contact our SenCo, Mary Kirby, at This email address is being protected from spambots. You need JavaScript enabled to view it.
Transition Days
Due to current school closures and measures in place related to Covid-19 we are sadly unable to host our transition days this year. However, we continue to work closely with primary schools to support Y6 transition.
Information for parents
Information packs are sent to all parents once places are allocated. Our parents' information evenings will be held 'virtually' this year – invites will be sent via email, along with information regarding tutor groups and arrangements for September.
If you have not yet completed the online details form, please do so as soon as possible by following the link: a.whptrust.org/bc2020
If you require any more information regarding transition, or places for Year 7 this September, please contact Jenny Read at This email address is being protected from spambots. You need JavaScript enabled to view it. or telephone the school.