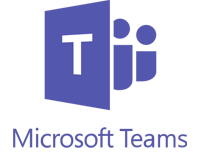 We are using Microsoft Teams to make students' work accessible both in school and at home. It is free, already linked to school email and Microsoft accounts, and compatible with most devices, including phones, tablets and computers.
All students have been shown how to access Teams, and have started to use it regularly in school to access work.

Year 7 and Year 8
Students have a Team for their form group, and the teachers of every subject upload classwork and homework to this Team, so all the work can easily be found in just one place.
Year 9
Students have a Team for their form group as above, and also a 'creative subject' Team.
Year 10 and Year 11
Students have separate Teams for all of their GCSE classes.
Accessing Teams
Microsoft Teams can be accessed from any internet browser, or can be downloaded as an app to any mobile device completely for free for students.
Students can easily access their Teams by signing into their school Emails and clicking on the menu in the top left-hand corner, where they can select the Teams app. Alternatively, Teams can be downloaded onto laptops, tablets and phones.

Demo: A Guided Tour of Teams (external link)