Jump to section:
The Start of the New School Year
Face Coverings
Important Information
Lockers
Behaviour
Attendance


School Day: Timings, Locations, etc.
Nottinghamshire County Council Guidance for Schools
The Start of the New School Year
Students starting in Year 7 in September have been invited to come in for an induction morning on Wednesday 2nd September between 9:30 and 11:30 to meet their form tutors and get to know the other students in the tutor group. All students in Years 7 to 11 will start back at school on Thursday 3rd September but we will be having a staggered start. Years 7, 8 and 9 will start school at 8:45 and will be direct to go to their form tutor rooms by members of staff at the school gate. Years 10 and 11 will start their day at 10:20 with similar directions to their tutor rooms. On all other days, tutor time will start at 8:45 for Year 7s and 8:50 for Years 8, 9 10 and 11; year groups are spread out across the school site to allow for year group bubbles to be maintained.
Face Coverings
In our last communication to parents and staff, we stated that face coverings were not required in school, however students and staff could wear face coverings if it made them feel more comfortable. You may have seen the news in recent days where the Government guidance is that facemasks will be compulsory in schools ONLY in areas of local lockdown.
The Department for Education says that, for most areas of England, it is keeping its recommendation against using face coverings - but that schools will be able to make their own decision whether to ask pupils and staff to wear them.
We have carefully planned the movement of pupils around Bramcote College to minimise potential transmission risk. One-way systems and zoned areas will be in place. Many students will be a in a 'home room' for the vast majority of lessons and therefore will not be moving as often. Our accommodation is spread across our site, with very few internal corridors.
We are now asking all staff and students to bring a clean face covering to school everyday. Ideally this should be stored in a clean plastic bag when not in use.
We are asking students to have a face covering on when they are in practical classroom-based subjects such as science and food technology. Ideally all students will have a face covering with them, but we can provide one should they forget.
We will also be asking students to wear a face covering when queuing for lunch. Students are able to wear face coverings in corridors and other areas should they wish.
It is our view, that it will still not be necessary to wear face coverings in the classroom, where "protective measures already mean the risks are lower, and where they can inhibit learning".
We continue to be committed to making Bramcote College safe. We will review and update this policy as needed.
Important Information
Dear Students, Parents and Carers,
We hope this finds you and your family well. In preparation for the new school year we wanted to re-share some important information about the new school year, including reminders of some old routines and information about new routines we are developing.
At Bramcote College, we have followed the Government Guidelines for September 2020 school opening very closely. We have considered our context and school environment when planning school opening for all staff and students. We appreciate that there may be some anxieties from students and parents with the return to school. Our priority is to ensure that we can operate an efficient and meaningful learning environment whilst keeping everyone safe. New norms and routines will be our focus for the first few weeks, and we will ensure that these are well embedded and revisited frequently.
Term Dates for next year
INSET Days
Tuesday, 1st September 2020
Wednesday, 2nd September 2020
Friday, 16th October 2020
Friday, 12th February 2021
Monday, 5th July 2021
Term Dates:
Autumn Term:
3rd September 2020 to 18th December 2020
Half Term - 19th October 2020 to 30th October 2020
Spring Term:
4th January 2021 to 1st April 2021
Half Term - 15th February to 19th February 2021
Summer Term
19th April 2021 – 28th July 2021
Half Term - 31st May 2021 - 4th June 2021
Wellbeing
The wellbeing of our students is of the upmost importance and as such, if you are worried that your child will struggle with the return to school, please get in touch with form tutors or Heads of Year to discuss this. We have various levels of support on offer to any students who may need it. Heads of Year are Year 7 – Mrs Bateman, Year 8 – Mrs I'Anson, Year 9 – Mrs Crouch, Year 10 – Mr Ramsden and Year 11 – Mrs Mansfield.
It is also very important to remind parents that if students (or a member of their household) are unwell with any Covid-like symptoms they must not be sent to school.
If any students become ill during the school day, they will be sent home; we have a medical isolation room in which students will have to wait to be collected. If any of our first aiders are needed to deliver first aid, they will do so in PPE because they will be working closely with students.
We would also like to remind you that if anyone in your household is displaying Covid-like symptoms your child should not come to school; please phone to let us know and self-isolate following Government guidelines. The school will send work for your child to do at home if they are well enough to work.
It is important for all students to return to school to minimise the longer-term impact of lockdown on their education, wellbeing and wider development. We know that students have not only missed out on learning but also missed being with their friends and other aspects of school. Missing out on more time in the classroom risks students falling behind. Therefore, the Department for Education have confirmed that school attendance is compulsory again from the beginning of September 2020 when schools re-open after the summer break.
The first day of the new school year
Students starting in Year 7 in September are going to be invited to come in for an induction morning on Wednesday 2nd September between 9:30 and 11:30 to meet their form tutors and get to know the other students in the tutor group. Students will be met at the gate and directed to the tennis courts when they arrive.
All students in Years 7 to 11 will start back at school on Thursday 3rd September but we will be having a staggered start. Years 7, 8 and 9 will start school at 8:45 and will be direct to go to their form tutor rooms by members of staff at the school gate. Years 10 and 11 will start their day at 10:20 with similar directions to their tutor rooms.
On all other days, tutor time will start at 8:45 for Year 7s and 8:50 for Years 8, 9 10 and 11; year groups are spread out across the school site to allow for year group bubbles to be maintained.
Students are asked to bring with them:
A drink and a snack, as access to the canteen to buy food and drink has been reduced somewhat, to allow for greater social distancing.
A pencil case as students will not be able to share classroom equipment.
A disposable or washable face mask and a something to store it in safely. Students are expected to wear their masks properly over their nose and mouth and to store them properly when they are not wearing them. Masks must be plain or with a small pattern, no slogans, no writing, no large logos. Based on government guidelines masks will to be worn if students are using public transport and when they are in the spaced queues in the dining hall. Students may also choose to wear them in corridors or on the stairs, however, one-way systems are in operation in these areas and they will be supervised at potentially busy times, so this is mainly a precaution. Disposable masks are available at school if your son/daughter loses/forgets theirs. This will be reviewed over time. Please contact your Head of Year if you have any concerns about this.
Students will not need to bring their PE kit; on days when students have PE, they will be asked to come to school wearing their WHP Trust PE kit. The is an updated kit which is newly available, however, this is being phased in, so the original design is still fine.
Students may choose to bring hand sanitizer to school, however, we have fitted hand sanitizer dispensers in every classroom and around the school in key areas, as well as providing more hand washing facilities.
Adaptations to the school in light of Covid19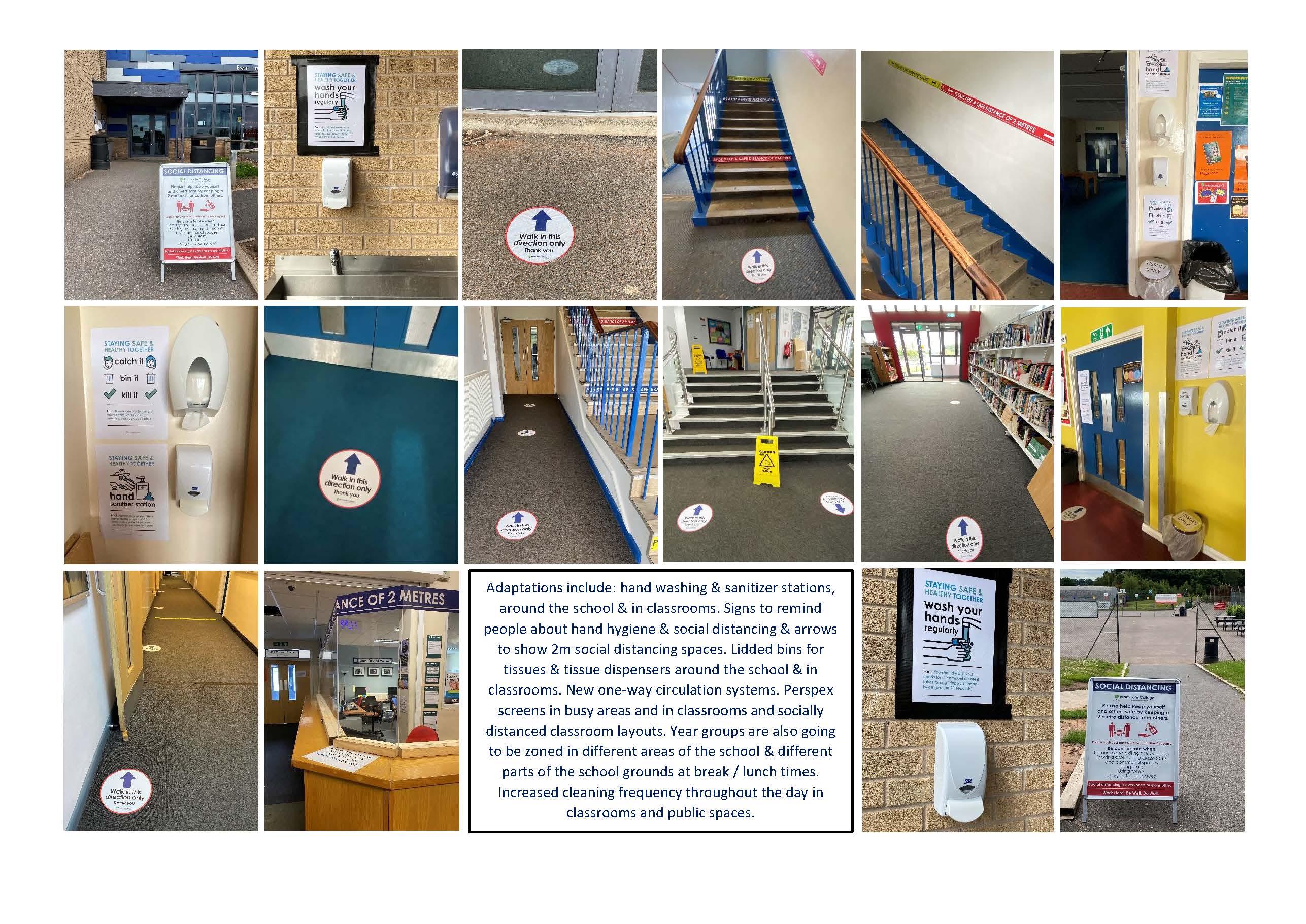 We have been working hard this term to ensure that the school is a safe learning environment by introducing a range of changes which have been in place since Year 10 and 12 returned to school for lessons in June. Over the summer we have been extending these adaptations in preparation for the full reopening of school for September.
We understand that some students may feel anxious about returning to school, so I want to reassure you that we have worked hard to get the school ready for this by making further improvements over the summer to reflect advice and changes in Government policy and will continue to do so as more guidelines are developed. All risk assessments and policies are available on the school website.
We have arranged for hand sanitisers to be fitted into every classroom. We have also added new signs on the walls and floors to remind students and staff about the importance of social distancing and regular hand washing. To make hand hygiene as easy as possible around school we have made hand sanitisers / hand washing facilities available at all the entrances / exits to the school building. Site staff will be checking these at least twice daily to ensure that they are always topped up with soap and paper towels, or sanitiser gel. At key times of the day students will be reminded to use these by members of staff who are on duty e.g. at break / lunchtime and at the start / end of the school day.
We also have new members of our cleaning team who will be rotating around the school throughout the day to clean key areas e.g. bannisters, door handles and hand washing facilities, as well as areas which may be used by different groups of students, such as the dining hall.
In addition to new signs encouraging social distancing there are new arrows on the floor which clearly mark the new one-way systems which have been introduced to allow students to flow through the school more freely.
In classrooms there are new front facing layouts and we have worked hard on our 'big tidy up' to remove unnecessary items from classrooms to ensure that desks can be fully spaced out. In classrooms the teacher's desks have had a Perspex panel fitted and areas like Student Support, Learning Support and Reception have also been fitted with Perspex panels to still allow students and staff to have closer 1:1 conversations when needed. Classrooms and key students support areas may also be a bit cooler than normal as staff have been asked to open all windows and classroom doors to ensure better air circulation in the building.
In contrast with last year, students will not be moving around the school so much, with a number of subjects being taught in a 'homerooms', unless a specialist space is needed e.g. English, Maths and Humanities subjects will be in a home classroom, however, Science, Art and Design Technology need more specialist classrooms and equipment.
As we are going to be asking students to space themselves out more, which includes at social times, we have bought more outdoor furniture, such as benches so they don't have to come into the Dining Hall to eat their lunch and we have plans for year group zoning for outdoor space to allow us to maintain year group bubbles. We will also give each year group a specific time slot to access the Dining Hall to buy food or drinks, with time to allow the cleaners access in between slots. Students will be spending more time outside at break and lunch time, so we would advise you to make sure that they have a warm, waterproof coat in September. We also have new plans in place for wet break and lunch time which allows for year groups to be independent of each other.
No lockers will be in use initially in school due to them being located in areas of the building that fall outside of different year group zones, although this decision will be reviewed at October half term. Anyone with a PE lesson should wear their full kit all day.
Updates and changes to Government policy and how they are being applied at Bramcote College
We are working hard to stay up to date with Government plans and the current evolving situation with social distancing and the easing of lockdown; if there are any changes to Government expectation we will adapt our plans and inform parents / carers, students and staff.
https://www.gov.uk/government/publications/actions-for-schools-during-the-coronavirus-outbreak/guidance-for-full-opening-schools
Please note that the guidance has been updated to reflect recent recommendations regarding face coverings.
https://www.gov.uk/government/publications/face-coverings-in-education

The Department for Education says that, for most areas of England, it is keeping its recommendation against using face coverings - but that schools will be able to make their own decision whether to ask pupils and staff to wear them.
As previously explained, we are asking all staff and students to bring a clean face covering to school every day. Ideally this should be stored in a clean plastic bag when not in use. We are asking students to have a face covering on when they are in the dining hall queue and they may choose to wear them in potentially busy communal areas as well as in some practical classroom-based subjects, such as science and food technology, where they are moving around and not in a fixed seat. Ideally all students will have a face covering with them, but we can provide one should they forget.
It is our view, that it will still not be necessary to wear face coverings in the classroom, where "protective measures already mean the risks are lower, and where they can inhibit learning".
This is the set of actions Bramcote College must take. They are grouped into prevention and response measures.
Prevention:
1) Minimise contact with individuals who are unwell by ensuring that those who have coronavirus (COVID-19) symptoms, or who have someone in their household who does, do not attend school.
Please see our revised Attendance procedures below.
2) Clean hands thoroughly more often than usual
We have alcohol hand sanitisers and/or hand washing facilities in every classroom. All students and staff will clean their hands thoroughly:
at the start and end of every lesson
after using the toilet facilities
after using a tissue for a sneeze or cough
before eating
3) Ensure good respiratory hygiene by promoting the 'catch it, bin it, kill it' approach
We will remind students of students to use a tissue to catch sneezes or coughs. They should then dispose of used tissues in a lidded bin, then clean their hands. Tissues and lidded bins for tissues are provided in every classroom and most areas of school.
4) Introduce enhanced cleaning, including cleaning frequently touched surfaces often, using standard products such as detergents and bleach
Cleaning of communal areas will take place throughout the school day, following our enhanced cleaning regime.
5) Minimise contact between individuals and maintain social distancing wherever possible
One- way systems, zoned area and a reduction in number of lessons children have will support this. Children in KS3 will be taught in tutor groups for the most part. At KS4 students will be taught in sets and classes and will be considered 'year bubbles'.
The organisation of lunch time zones and access to dining areas has been considered and was detailed in the Summer term letter home.
In addition, the measures in place for every classroom/teaching space include:
Open doors and windows
All desks facing the front
Teacher teachers at the front
Teacher screens in every classroom and available for small group work
In classroom-based subject no loaning or sharing of equipment. School will make up an equipment pack for all Year 7,8 and 9 for their classroom-based subjects.
For days on which students have PE, they will attend school in full PE kit.
There are signs promoting social distancing in school. Where possible we will maintain 2m social distancing between adults, and adults and children. We believe that all our students are old enough to understand the concept of social distancing between peers. This will be actively encouraged. All students will be reminded of Bramcote College's no-touch policy.
6) Where necessary, wear appropriate personal protective equipment (PPE)
Response to any infection:
7) Engage with the NHS Test and Trace process
8) Manage confirmed cases of coronavirus (COVID-19) amongst the school community
9) Contain any outbreak by following local health protection team advice
School Attendance
Students and staff MUST NOT attend school if:
They have tested positive for COVID-19 and symptoms started in the last 10 days or are ongoing
They have any of the suspected symptoms or more than one of the possible symptoms of COVID-19 and have not received a negative test result after the symptoms started
Someone in the household has COVID-19 symptoms(and has not received a negative test result)
They have had close contact with someone who has tested positive for COVID-19
They have been asked to self-isolate by the Track and Trace service
They have returned from abroad within the last 14 days and are required to quarantine * the list of exempt countries is being updated daily
Suspected symptoms:
High temperature – this means you feel hot to touch on your chest or back
A new, continuous cough – this means coughing a lot for more than an hour, or 3 or more coughing episodes in 24 hours (if you usually have a cough, it may be worse than usual)
Loss or change to your sense of smell or taste – this means you've noticed you cannot smell or taste anything, or things smell or taste different to normal
Staff and students (via parents) must
Book a test if a household member is displaying symptoms.
provide details of anyone they or their child have been in close contact with if they were to test positive for coronavirus (COVID-19) or if asked by NHS Test and Trace
Self-isolate if they have been in close contact with someone who tests positive for coronavirus (COVID-19), or if anyone in their household develops symptoms of coronavirus (COVID-19)
Please contact school should your child be off. Please give full details of reason for absence and whether it is COVID-19 related or not.
Changes to timetables and teaching from September
In addition to the changes already outlined, we have looked closely at the school timetable and while we feel that the site is large enough to base different year groups in different parts of the school at the start of the day, to avoid the need for a staggered timings, we have decided to alter the number of lessons running throughout the day to reduce the number of times students have to move around the school site. We have developed a new 4 lesson day, which reduces the number of lesson change overs we had in out 6 lesson day but also avoids the demands placed on students if we were to simply run three double lessons. Students will still have the same amount of lesson time in the day, however the new timings allow us to have fewer change overs and for the first time in many years, it also means we will no longer have a two week timetable, which will also be easier for many students to cope with. As this is a big change for all of our students and staff we will make sure that the new timings of the day are clearly displayed around school.
Year 7 and 8 will be taught in tutor groups initially to reduce the amount that groups have to mix, which will help with creating year group bubbles. Year 9 students will be in more streamed groups, as some subjects start to deliver pre-GCSE content in Year 9. These groups will be reviewed as the year develops. Year 10 and 11 students' timetables are based on the GCSE courses they will be following.
Should there be any local spikes or lockdowns, or the need to reduce the number of students in school we have already planned a number of models for teaching from September which includes these eventualities and would be based on us using Microsoft Teams, narrated PowerPoint and Word resources and online platforms, including My Maths, Seneca and a new Maths, English and Science online platform called Century Tech.
Food services in school
We will continue to serve hot and cold food in the Dining Hall, however, we intend to use the Hall and Dining Hall for different year groups and are planning on serving lunch at the new, later break time as well as at lunch time (both time slots will be 35minutes to allow for this); this means that some year groups will have an early lunch and others a later lunch. Students are still welcome to bring in packed lunches and are encouraged to bring a snack and a drink each day. To allow us to plan for social distancing in our dining spaces from September, we will be sending out a survey to all parents / carers this week which to allow us to establish numbers for students planning on having packed lunches and hot lunches. We are also working on setting up a pre-ordering system which allows parents / cares and students to decide on lunches a week in advance; as soon as this is up and running, we will be in touch.
One great piece of news that we would like to share with you is that we have secured a place on the National School Breakfast Programme 2020-2021, which means that students will be able to have a free bagel for breakfast during tutor time.
Travelling to and from school
Travelling to and from school is going to be a key time for students and while we are going to do some work with students in school in September on what is expected of them in their community outside school, we would appreciate it if you could discuss social distancing on the way to and from school with your child. Any students using public transport may still be expected to wear a mask, in which case it is important that you provide on and that your child knows how to store it properly throughout the day.
We would also like to remind all students who plan on travelling to school by bike that they will need to wear a helmet and bring their own bike lock. Students are also expected to have a bike permit which they may already have from last year. If your son / daughter doesn't have a bike permit, they will need to collect a letter from Student Support on the first day they cycle into school and return it the next day to get their permit. We would also like to remind all students cycling or coming into school on scooters to ride responsibly and carefully.
Uniform expectation from September

Click here for full uniform guidance
We expect students to return to school in full school uniform. The only adaptation we have made is that on days when students have PE, they are expected to come into school in full school PE kit. All items of school uniform can be bought from Big Fish School Wear (www.bigfishschoolwear.co.uk Login: Bramcote Password: TBS123) or at Morleys if you make an appointment.
We would ask students and parents/carers to be especially aware of expectations around hair, nails and make up. While the vast majority of our students follow our rules on uniform and personal appearance, lockdown may have given them the opportunity to experiment a bit and we just want to remind you that we expect hair, nail, and make up to be natural; so, no unnatural hair colours or extreme haircuts, no coloured nails or nail extensions and no false eyelashes or make up. Students are also only allowed to wear one pair of small stud earrings, which means any additional piercings would need to be removed for school. We appreciate that it may take some time to adjust some lockdown fashion decisions, which is why we wrote to you in July.
Should you have any specific enquiries please feel free to get in touch with your son/daughter's Form Tutor or Head of Year.
We are also planning our next 'Zoom' Parents' Forum for Thursday September 10th, which gives you the opportunity to discuss any questions raised by the first week back in school.
Bramcote College Behaviour Policy
An addendum to our behaviour policy has been created to include the new expectations to minimise the COVID-19 transmission risks. This policy will be approved by our Local Governing Body and shared with staff, students and parents.
In the first few weeks of term, we will be working with students to embed the new routines and expectations. Behaviour and attendance expectations will be included in the tutor induction sessions. We will clarify sanctions and rewards and how rules will be enforced consistently, including use of exclusions. We don't expect everyone to get it right all the time, but we do expect a willingness to listen and be corrected. We will set clear, reasonable and proportionate standards of behaviour.
In light of the coronavirus outbreak, some behaviours, such as purposely coughing on someone, are now considered more serious and will be dealt with more harshly than before.
Ultimately, our behaviour policy is rooted in positive relationships between staff and students. We will be clear in explaining new rules to students and the importance of everyone abiding by them. We do not foresee many, if any, incidents of such nature.
We recognise that some students will struggle to settle back into school. Our pastoral team will work with students and parents to identify individual barriers to good attendance and behaviour and help students reintegrate fully.
Many pupils are likely to need some social and emotional support on their return to school. Some pupils will need extra support, such as those that previously had poor attendance or fixed term exclusion as well as those new to the school, with SEND or who have not engaged with the school during the coronavirus outbreak.
Bramcote College Covid-19 Behaviour Policy Addendum June 2020
This information is an addition to the existing behaviour policy in order to support changes in the school environment, expectations of students and staff and adaptations to behaviour management under the current set of circumstances.
Returning to school will present a range of challenges for everyone. Our students will have been subjected a vast range of challenges within their own unique set of circumstances. School must be a safe place for them, offering counsel, support and encouragement but maintain structure and expectations around behaviour and learning. Whatever circumstances staff and students are emerging from, school must remain the consistent, fair and structured environment that supports students in being successful, safe and happy.
Staff and students must understand the ways in which we need to change our behaviours in order to support and adhere to the government guidelines to support the reduction in transmission of Covid-19. The school environment has changed in response to these guidelines and staff will have a wider responsibility to learn the changes themselves as well as supporting our students to learn and adhere to these expectations, making clear judgements between behaviours that are not yet learnt to those being deliberately displayed. Part of the role of staff is to not just to challenge and punish behaviours, but to educate, remind and improve the behaviours of our students whilst in school.
Successful behaviour needs to be taught, not just told.
Expectations & Rules for Students and Staff that will support keeping everyone safe during this time:
Do not come to school if you are presenting with any symptoms of Covid-19 and follow government guidance on self-isolation and risk management
Hand wash or sanitise before entering and re-entering the building
Hand sanitise upon entering and leaving a classroom or an area in school
Maintain good hand and personal hygiene 'catch it, kill it, bin it'
Do not deliberately touch, grab, hug, bump or contact any other students or staff
In light of the coronavirus outbreak, some behaviours, such as purposely coughing on someone, are now considered more serious and will be dealt with more harshly than before
Follow and adhere to the social distancing measures put in place and one-way systems that are used to prevent unnecessary cross-over between staff and students
Adhere to social distancing rules in the classroom, corridors, communal spaces and outside areas
Students must remain in their designated year group zones and subsequent bubbles in order to reduce cross-over between year groups
Students are expected in full uniform and are expected to attend in full and correct PE kit on the days they have PE lessons, to avoid using and crowding in the changing rooms. DFE guidance published on Friday August 28th states: "It is for the governing body of a school (or the academy trust, in the case of academies) to make decisions regarding school uniform. Some schools may have relaxed their uniform policy while only certain categories of pupils were attending. We would, however, encourage all schools to return to their usual uniform policies in the autumn term. Uniform can play a valuable role in contributing to the ethos of a school and setting an appropriate tone. Uniforms do not need to be cleaned any more often than usual, nor do they need to be cleaned using methods which are different from normal."
Students must come to school equipped and ready to learn. Equipment can be given to students, but it is not to be loaned, swapped or returned
Students must arrive to and depart from the school site on time and using the designated entrance and exit points. As soon as the school day is completed students must depart as a year group and continue to adhere to the required social distancing whilst in the community to the best of their ability. Students should not be waiting or gathering before departing or arriving to school
Behaviour that wilfully undermines the safety measures that the school has put in place or risks the safety of students or staff will not be tolerated. If incidents occur that undermine these safety measures, they will be treated as high level behavioural incidents and sanctioned accordingly.
The following behaviours will result in temporary removal from the school site in-line with the home-school agreement:
Deliberately spitting at or toward an individual
Deliberately coughing or sneezing at another individual
Forcibly touching or grabbing another student or member of staff
Deliberately and repeatedly not adhering to the social distancing guidelines in school
Persistently making verbal comments and challenges about the existing situation
Not adhering to the need to wear a face mask, if / when they become compulsory (A very small number of students have medical exemption and will be wearing shields, however, this must be discussed with Heads of Year and there has to be a letter from a medical expert to support this.)
Existing rules & expectations that should be reinforced:
No touch policy
Mobile phones should not be seen or heard
Earphones are not permitted
Disruption of the learning environment will not be accepted
Talking at inappropriate times is not accepted
Speaking inappropriately towards staff and peers
Swearing and using offensive language
Jewellery, hair colour or style, make up and nails, as well as other uniform infringements which go against our clear uniform policy
Chewing gum is not permitted
Littering is not permitted
Punctuality & Attendance are essential
Correction Procedures that can be employed to support behaviour management and improving students' approach to school:
Pro-active and pre-emptive management of the learning environment
Staff intervention and challenge and education regarding appropriate behaviours
Movement of students to different desks (designated spare desks in each room for this purpose)
Modified seating plans
Time-out of the lessons
Buddy classrooms where possible
Classroom teacher sanctions at Break and Lunch times (10mins)
Departmental corrections at Break and Lunch time (20mins)
TMC's (ten minute corrections) for school readiness
Walkabout support with any of the above and/or student removal to reset
Time in RESET to address behaviours
Pastoral intervention
Phone calls home
Collection or sent from school site
Reward and recognition for those behaviours that we want to see and encourage
Recognise the good, challenge and educate what we don't want
What cannot be put in to policy are the judgments and assessments, as professionals, which we will be making about the individual students when they return to school. We do not know for certain what they have and have not experienced during lockdown and the following weeks and we may never fully understand their situation during this time. Some may have had a positive time, some may not. Remember, behaviour is a form of communication and represents an emotional need and response to our environment. As a school, we will support our students through this time, but we will not allow it to define them or their futures. Personal growth can come in response to adversity and challenge, learning how to manage that and overcome it builds our self-esteem and self-worth. Every individual student's journey through this will look very different in the time taken, support needed and individual responses, much like our own. Above all else, kindness and warmth can overcome any unknown difficulties that we may be experiencing or have experienced.
Bramcote College Attendance Policy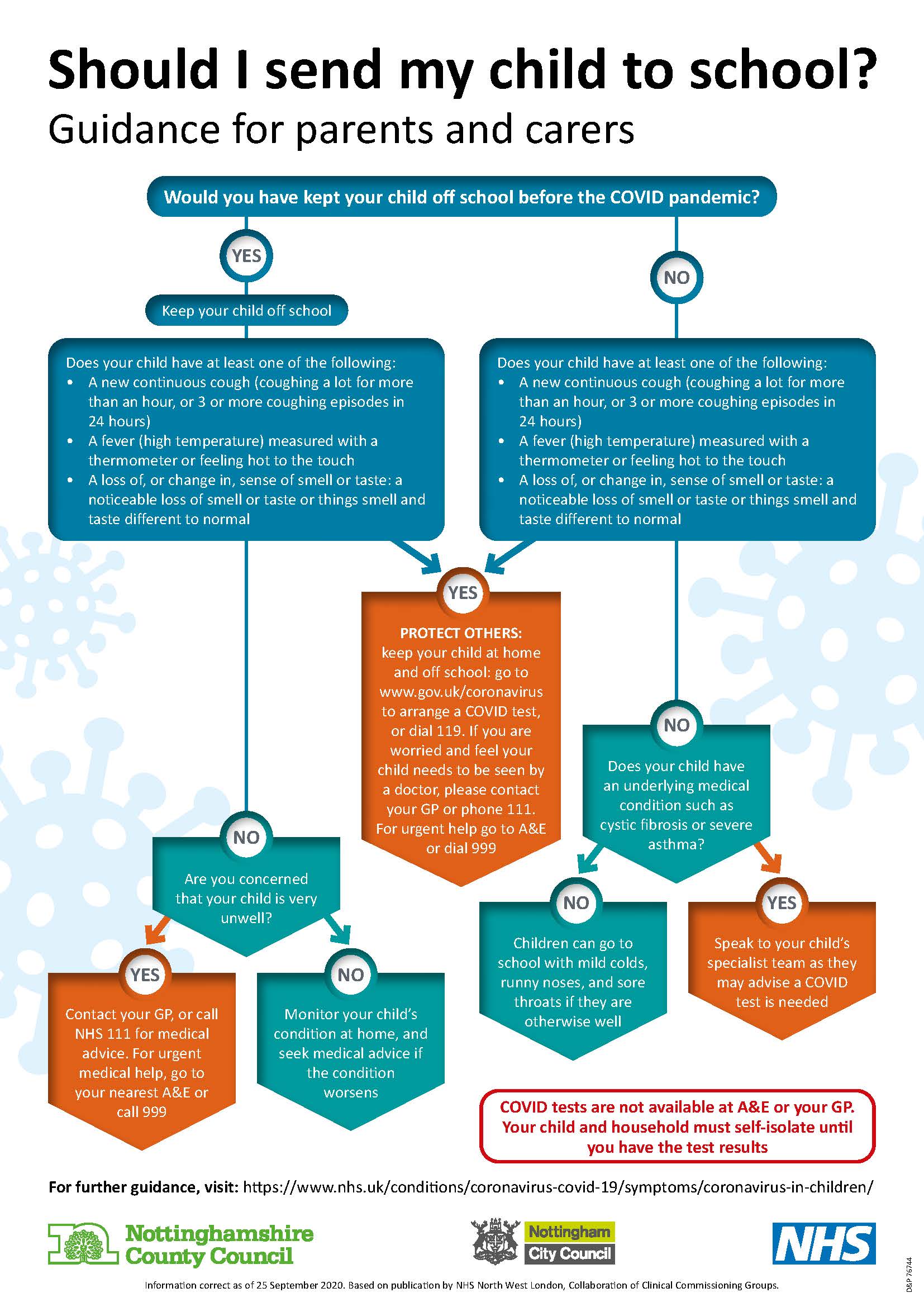 As set out by government guidelines, attendance will be mandatory from the start of the new school year, except where statutory exemptions apply. Pupils of compulsory school age must be in school unless a statutory reason applies.
In line with the Secretary of State's expectation that no parent will be penalised for following official public health advice for their child not to attend a given session, a new category of non-attendance (x) will not count as an absence for statistical purposes.
Parents should inform school if their child is unable to attend and the reason. Where this does not happen, our attendance officer will contact parents or carers on the first day of absence.
We recognise that there may be some students and/or parents who will be anxious about a return to school; our Heads of Year will happily discuss any concerns and the measures we have put in place to minimise the risk of COVID-19 transmission, with the aim to build confidence and improve school attendance.
Examples in which 'not attending in circumstance related to coronavirus (COVID-19) could apply;
Pupils who are required to self-isolate as they, or a member of their household, has symptoms of confirmed coronavirus
Pupils who are required to self-isolate as they are a close contact of someone who has symptoms of confirmed coronavirus
Pupils who are required by legislation to self-isolate as part of a period of quarantine
Pupils who are clinically extremely vulnerable in a future local lockdown scenario only
Bramcote College policy for non-COVID-19 absences remains the same. As usual, parents should plan their holidays within school breaks and avoid seeking permission to take their children out of school during term time. Leave of absence for students during term time will only be authorised in exceptional circumstances. Holidays in term time will not be authorised and in most cases will be referred to the Enforcement Team who will issue a Fixed Penalty Notice.
Nottinghamshire County Council Guidance for Schools

Nottinghamshire Schools COVID-19 guide


Nottinghamshire Schools GDPR Track and Trace Advice