Remote Access allows you to connect into school and access all of your files from home. It is like sitting at a PC in school, with access to your P:\ Drive and Shared Resources. You can use Remote Access from any Windows PC, Mac (When using Mac OS X version 10.5.8 or a later version of Mac OS), iPad or Android or Windows Tablet. For ease of use a screen of 10" or above is recomended, along with a keyboard and mouse/touchpad.
PLEASE NOTE - ALL CONNECTION ATTEMPTS TO THE WHITE HILLS PARK TRUST NETWORK ARE RECORDED. ALL LOGIN ATTEMPTS TO REMOTE ACCESS ARE RECORDED. ALL COMPUTER USE ON REMOTE ACCESS IS LOGGED INCLDUING APPLICATIONS USED, FILES SAVED/DELETED, DOCUMENTS PRINTED AND INTERNET USAGE. TRUST ICT POLICIES FOR STAFF AND STUDENTS STILL APPLY WHEN USING REMOTE ACCESS FROM HOME OR ANY OTHER LOCATION.
DO NOT USE REMOTE ACCESS IF YOU DO NOT AGREE TO THESE CONDITIONS.
.
How to Connect
From a Windows PC (Windows Vista, 7, 8, 8.1 or 10) you can download the connection file for remote access by clickiing on the link below Once saved double click on the file to open a Remote Desktop Connection. Whilst this should also work with Windows XP, we no longer support that operating system and we can not help with any specific issues.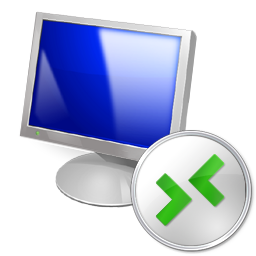 Remote Desktop Connection File
How to Enter Your Username
When logging into remote access you must put whp\ before your username, so for example, if your username is P17AStudent you would need to enter your username as whp\P17AStudent
Apps for other Platforms
For non-Windows platforms you can download the Microsoft Remote Desktop Client for your device using the following links, then configure the app with the manual connection settings below. There are alternative free Remote Desktop clients available, but please ensure that these support configuring a Remote Desktop Gateway.

Download Remote Desktop Connection Client for Mac

Download Microsoft Remote Desktop for iPad

Download Microsoft Remote Desktop for Android
Manual Settings
To enter connection settings manually :-
PC Name : tsg.whpfederation.org
Username : whp\yourusername
You will also need to specify a (Remote Desktop) Gateway.
Gateway Address : tsg.whpfederation.org
IMPORTANT : WITHOUT THE CORRECT GATEWAY SETTING REMOTE ACCESS WILL NOT WORK. PLEASE SEE THE ADDITIONAL HELP SECTION IF YOU CAN NOT FIND THIS SETTING.

Additional Help
Getting Started with Remote Desktop Client on Mac
Getting Started with Remote Desktop Client on iOS
Remote Desktop Connection File

Additional Information
It will sometimes be necessary to take down Remote Access for manintenance and upgrades and it will not be always available. IT Services will always endevour to keep downtime to a minimum.
Do not rely on Remote Access to meet last minute deadlines - Remote Access being unavailable is not an adequate excuse for missing a deadline.
Whilst using the Internet on Remote Access you will be subject to the same filtering and code of conduct as when in school.
Depending on the popularity of Remote Access it may be necessary to limit the amount of users that can access the system at any one time, to ensure that the user experience remains adequate - running on the hardware avaiable for this service.
This service may be withdrawn at any time.