Last update: Monday 9th March 2020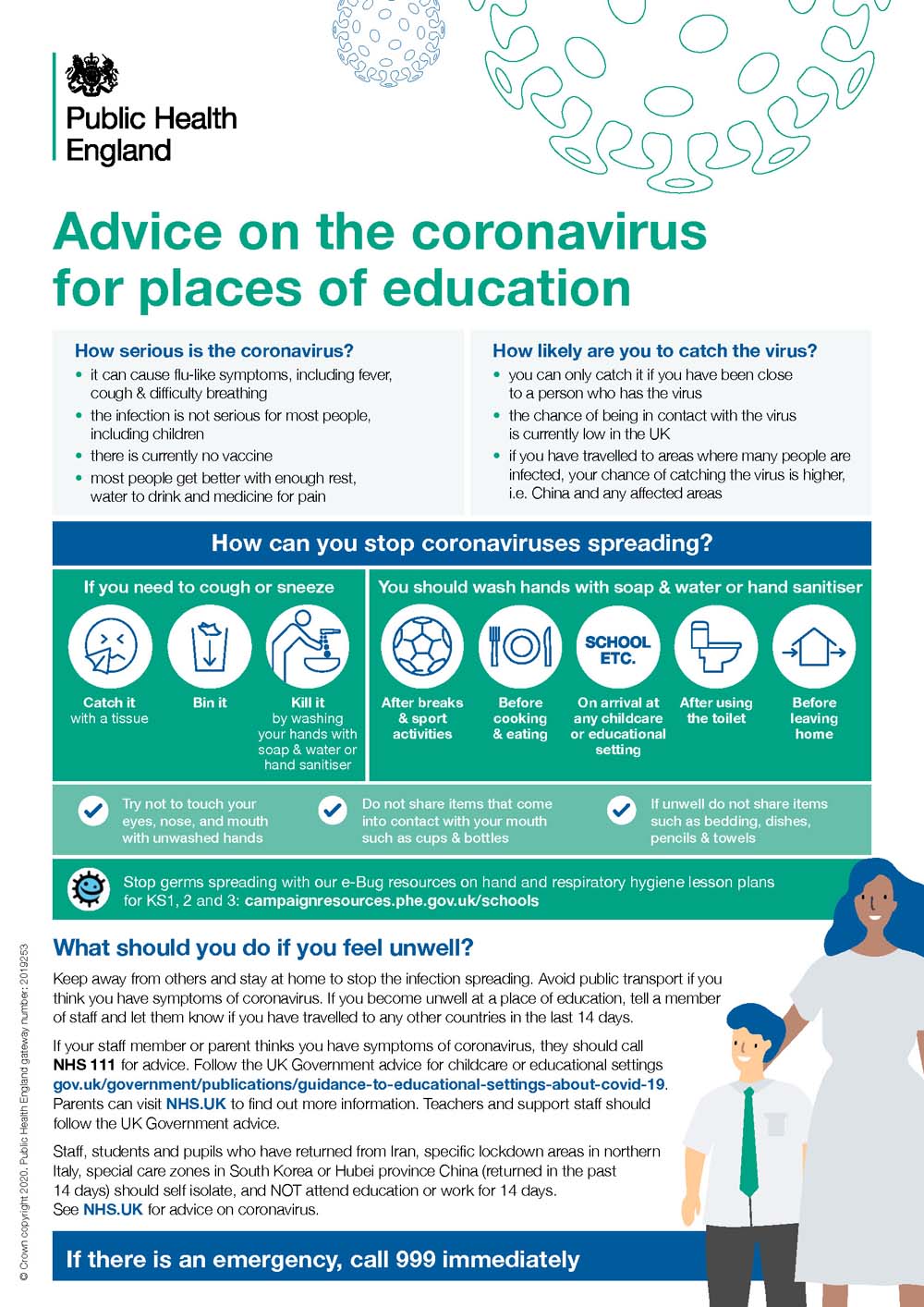 The Department for Education (DfE) has launched a new helpline to answer questions about COVID-19 related to education.
Staff, parents and students can contact the helpline by telephone and email:
Phone: 0800 046 8687
Email: This email address is being protected from spambots. You need JavaScript enabled to view it.
The helpline is open from 8am to 6pm, Monday to Friday.
The news recently has made for worrying viewing as the daily spread of the Coronavirus has started to spread alarm across many countries. We had some queries about actions to take if students and staff have returned from Italy in recent days, and so have had to ensure that our advice is up to date and our actions are proportionate. We are committed to keeping parents informed if and when the situation changes.
In school, we have a delicate balance to strike. On the one hand, we do not want to overreact and affect the smooth running of school and the great progress that our students are making. On the other hand, we are always mindful of our core responsibility to protect the health of our students.
As I'm sure you are aware by now, coronaviruses as a group are common across the world. Typical symptoms of coronavirus include fever and a cough that may progress to a severe pneumonia causing shortness of breath and breathing difficulties. Generally, coronavirus can cause more severe symptoms in people with weakened immune systems, older people, and those with long-term conditions like diabetes, cancer and chronic lung disease. Novel coronavirus (COVID-19) is a new strain of coronavirus first identified in Wuhan City, China.
Based on the scientific advice of the Scientific Advisory Group for Emergencies (SAGE) the UK Chief Medical Officers are advising anyone who has travelled to the UK from mainland China, Thailand, Japan, Republic of Korea, Hong Kong, Taiwan, Singapore, Malaysia or Macau in the last 14 days and is experiencing cough or fever or shortness of breath, to stay indoors and call NHS 111, even if symptoms are mild.

If you have returned from the following specific areas in the last 14 days, you should call NHS 111 and stay indoors and avoid contact with other people even if you do not have symptoms:
If you have returned from the following areas in the last 14 days and develop symptoms, however mild, you should stay indoors at home and avoid contact with other people immediately and call NHS 111. You do not need to follow this advice if you have no symptoms:
other areas of Italy
Vietnam
Cambodia
Laos
Myanmar
The principle we work on is that we follow the advice from Public Health England to the letter, and we ensure that we follow the latest updates.
There are also additional measures that we are taking in school, in line with advice. We have increased the amount of hand sanitiser dispensers around our schools and purchased additional supplies. We are regularly checking soap dispensers in toilets to make sure that they remain well-stocked. Staff, and our designated First Aiders in particular, are alert to any early symptoms and if we have any doubts, we will immediately inform parents. We have also displayed information posters around the school.
Whilst we know that this is an unusual situation which demands a particular response, maintaining a healthy environment for our students and staff is something that is always important. There are many things that we always do to keep students healthy – making sure we are aware of allergies, maintaining a high standard of cleaning, ensuring that we have a good programme of health education, ensuring that we have sufficient staff who have had first aid training, taking part and supporting wider health campaigns and so on – all contribute to a school culture that supports good health.
If any of the above advice changes, we will immediately inform parents.
Please see the links to the right to view a presenation given to students in tutor time.